Faux suede shoes are safer to clean than real suede, despite it looks more like a real suede shoes. Faux suede leather shoes are artificial and it needs less concern than original one and the process are similar like. If you have faux suede or original suede shoes you may try our method but caution is read the maker's instruction if any, which normally comes with your shoe box for suede cleaning. Leather shoe cleaning & faux suede cleaning are completely two different things. So let us dig with our next shoe care guideline for you, faux suede shoes cleaning.
How to Clean Faux Suede Shoes at Home?
Suede shoes are classic collection in any men's wardrobe. You love it when it rise but when it looks dull it need care, soft warm care. And it's not hard to clean it but some small steps can give it life again in a very short span. And its dirty pro due to its material type, hope you have noticed it but ignored due to its standard look.
Required Materials for Cleaning Faux Suede Shoes at home:
Most of the materials are available in home but in case you don't have it, you can collect it from any nearby shop or online.
Suede Brush/soft bristle brush/old tooth brush.
Soft cloth pieces/sponge.
Mild soap/synthetic shoe cleaner.
Waterproofing spray.
1
Step 1: Faux Suede Shoes Cleaning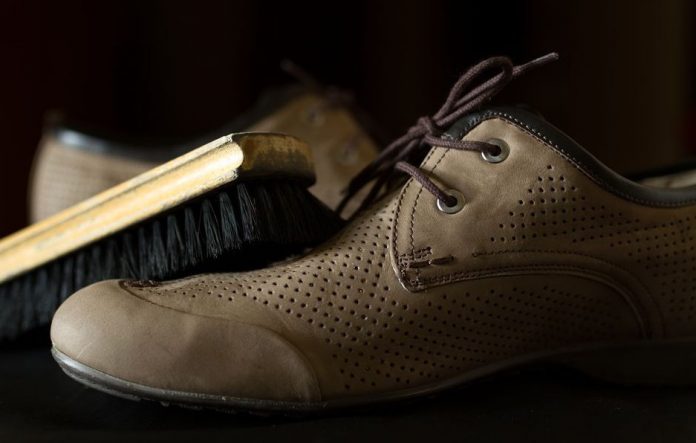 How to Clean Faux Suede Shoes?
Wear your synthetic hand gloves before you start the cleaning process. This is for your hand & skin safety from dust & bacteria. Now take the suede brush, operate softly on your faux suede. Initial brushing will loosens dirt & strains from the faux suede.
Only this brushing method will keep your suede leather lasting for years sometimes unless something more on shoes.So whenever you see shoes are dirty, you can apply this immediately, normally you can do it once in a week if you are a regular user of these shoes. If you do so, dirt will never be permanent on your shoes.
2
Step 2: Removing Faux Suede Shoe Strain
Now you can go for the next phase. Find a clean soft cloth from your store. You can use dish soap if the strain is oil based or any mild soap like hand soap is ok to use. In case you have synthetic shoe cleaner that will be best. Now put the cleaner whatever you have in the cloth and try to clean soiled areas in your favorite Bruno Marc suede shoe. Remember one thing, first test the cleaner in any non-noticeable part of your shoe like heel, so the suede color doesn't fade. Take ½ min before you decide. Rub the stain with the cloth that is already softening with soap (cleanser) & water.
3
Step 3: Removing Strain More By Cleaning Faux Shoes
Softly & slowly keep rubbing the stain with the cloth & cleanser, use a dry cloth to remove the wetness from the suede along with the solid dust, hope stain will be removed in very short time.
4
Step 4: Faux Suede Shoes Care
Once stain removed fully, dry the shoe in normal air. Once dried, use the suede brush again to rise up the faux suede. Before keeping it in your wardrobe for next day use, you have a small task to complete, whereas most of the people stop here and make the mistake for their suede shoes.
5
Step 5: Recommendations on Cleaning Suede Shoes
Our recommendation is to use stain & water repellent spray for future. Most of the people ignores it and then do the above mentioned part again. Its better if you use stain & water repellent spray on the shoe, it will protect your shoes to get dirty easily when you get out again & will help in your future suede shoes cleaning. A small protection measure can keep your shoes perfect for next 1 month or so, as that will have a thin coating over your shoe. Keep one thing in mind, spray from at least 1 feet away, so the protection evenly distributed over the shoe rather being concentrated in small areas of your shoes. This may create dark spots even on your shoes, so be cautious.
In case your faux leather shoes cleaning doesn't have any instruction from the manufacturer apply the above method, if they provide any, follow that. Principally for dark spots their given solution should be followed.
Never let your suede dry in directly on sunlight. It will destroy the color & texture. Neither it is required to keep into a dump place, try to give it normal healthy air as we do take. Suede is just like sensitive version of us, hope you take care of it for long lasting.
Why do people prefer faux suede or canvas shoes? Did you ever wonder?
Well one of  the reason to prefer faux suede or affordable stylish loafers shoe over real leather or suede is, original leather or suede is expensive as well as the shoe care process is bit complex. It requires more professionalism and cost more to clean. You should not try to do it often at home with cheap materials and use easy methods to clean it, this may destroy the texture and looks may worsen after homely casual try. So many prefer faux suede always or even canvas loafer shoes for men due to easy shoe care. But there is another reason (over how to clean faux suede shoes) that we will advise to use faux suede or Crocs Santa Cruz, it can save lives. Yes, every year million animals die due to demand of original suede. But people are getting aware these days along with shoe care issues. Luckily faux suede is there to help us. People loving it, it's cheap, easy to clean and saves animals, who are actually supply end resource for hides, giving lives to meet the global demand. So let us know your thoughts on original suede or faux suede, what do you prefer next time? Thanks.